Artist Statements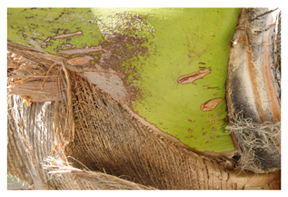 Original palm sheath photo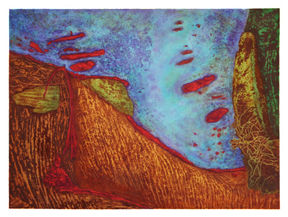 Monoprint derived from photo

'Natural Abstractions'
Because I am an avid outdoors person, bits and pieces of the landscape (roots, rocks, vines, trees, grasses, palm sheaths, and leaves) are juxtaposed in my artwork in an abstract manner. Because nature renews and invigorates me, it is a source of reflection and a catalyst for creativity and spirituality.
I often use nature and color as metaphors. In the Tree Vine series and the Palm Sheath series, vines and roots can be indicative of vessels, trunks as torsos, or passageways evocative of hidden areas. Man and nature are intertwined, and each can represent the other. At other times, what is really a myopic view of nature suddenly unfolds as an abstract landscape, aborting preconceived notions of what really is a landscape. In the Natural Abstraction series, fragments of varied natural forms float in an unusual perspective, creating conflicting layers of geological and botanical elements. These glimpses of nature are like snapshots compiled into one large diary of a textural journey.
I take close-up photographs of natural textures while hiking or during my travels. These images are made into transparencies in the darkroom or on the computer, then exposed onto solarplates (photosensitive printmaking plates), which are etched and cut into shapes. A combination of the solarplates and other printmaking techniques (collagraph plates, monoprinting, gum arabic transfers, embossment, and relief rolling) are used to create multiple layers of color and texture on individual monoprints. These original hand-pulled prints are printed on Rives BFK paper, requiring many runs through an etching press. They are 1/1, one-of-a-kind monoprints.
<<-- Click here to return to Statements
© 2009 Linda C. Everson, All Rights Reserved